As a TOS Review Crew member, I had the opportunity to enjoy IndoctriNation. This documentary from Great Commission Films is an in depth look at the decline of public schools in America from a Christian point of view.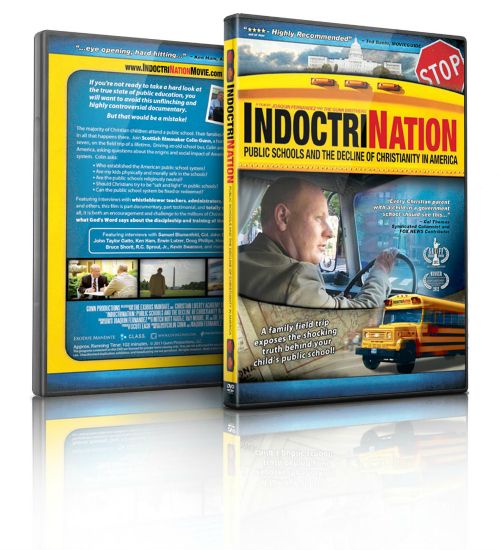 Are you an accidental homeschooler?
Someone who stumbled into homeschooling by default? Or maybe, like me, you began homeschooling because you simply felt
you could provide your children with a better education
than your public school alternative? I ask, because I'm one of those accidental homeschoolers.
I never really had anything against the public school system. After all, I'm a product of the public school system. And while my education wasn't stellar, I'm doing okay. Ha! I wholeheartedly believe every family must make the decision that's right for their family.
But a good decision is a well informed decision. And honestly, the general media isn't giving us an accurate picture of the public school machine. If you are considering homeschooling, or quitting homeschooling, I highly recommend you watch IndoctriNation. Educate yourself about what drives the public school system and ask yourself if you truly want your children to play a part.
The Premise
Colin Gunn, a Scottland-born homeschooler, takes the viewer on a trip around the U.S. as he seeks to understand the origins of the American public school system and where it stands today.  Gunn interviews teachers, parents, and others who've uncovered unsettling truths about the public school system.
Weaving together emotional first-hand interviews, strongly supported facts and statistics, as well as Biblical truths about discipleship of children, viewers are compelled to support an exodus from the public school system.
What to Expect
This movie is meant to shake you. And it does so, in a good way. Expect to feel a myriad of conflicting emotions from deep grief (Columbine), to confusion (how did we get to this point), to anger (the system is usurping the parental role) and maybe even hopelessness (can this be redeemed?). This documentary is truly a wild ride. Eyes will be opened.
The film asks:
Who established the American public schools system?
Are my kids physically and morally safe in the schools?
Are the public schools religiously neutral?
Shouldn't Christians be "salt and light" in the schools?
Can the public school system be fixed or redeemed?
My Personal Thoughts
IndoctriNation is a wonderful movie for ANY parent with children in, or about to be in, ANY school setting. Admittedly, it is from a right-wing, Christian perspective.  And while I am a right-wing, Christian, and wholeheartedly agree with most of what this documentary has to offer, I encourage even those who have opposing views to watch it at least once.
Even if you don't agree with everything, there are MANY things you will agree with – like, the safety of our children being paramount. Or the fact that the public school system has drastically changed from its original vision. And, that there's room for improvement.
Where to Get Your Copy
IndoctriNation the movie is available at the Great Commision Films website for $19.95.  There is also an IndoctriNation book available for $14.95.  Or, you can get them both together in a bundle for only $24.95. They now offer a Spanish-dubbed DVD as well!
Have you seen IndoctriNation? What were your impressions?
Click below to read more TOS Crew reviews for IndoctriNation:

---