As part of the TOS Review crew, I was given the opportunity to review
Reading Kingdom Online
, an online program designed to teach children ages four to ten how to read to a third grade level. Reading Kingdom uses a six-pillar approach for success.
ABOUT READING KINGDOM ONLINE
Reading Kingdom Online
focuses on six different reading skills: Sequencing, Sounds, Writing, Grammar, Meaning and Comprehension. The reason behind their unique approach is due to the complexity of the English language. While phonics are important, there are many words that don't follow the phonics "rules". Thus making them difficult, if not impossible, to sound out based on phonics alone.
Reading Kingdom combines their 6 pillars to offer a well rounded approach, in an effort to help children master reading without being confused by rule breaking words.
These 6 pillars were formed by research from Dr Marion Blank, an expert on literacy and developer of the Light on Learning Institute at Columbia University.
HOW WE USED IT
I used Reading Kingdom Online with Bram, my 8 year old, 3rd grade, super-active, kinesthetic learner. Learning to read has proved challenging for Bram, so this program had it's work cut out for it from the beginning.
To start, Bram took the built-in assessment so the program could gauge at what level to start him. The assessment was thorough, and I feel it did a good job of accurately assessing Bram's strengths and weaknesses.
After the assessment we jumped into the actual lessons. The Reading Kingdom Online lessons are incremental. They focused on much more than I expected. For example, they make sure your child knows to always read from left to right. That may sound simple, but for struggling readers, that concept can be difficult to master.
Another benefit I wasn't expecting was the focus on keyboard skills. I haven't worked with Bram on keyboard skills as of yet. So, when he had to identify his answers using letter keys on the keyboard it really slowed him down, and mama became a little nervous.
However, I was pleased to see that the program made it easy as it could be by visually demonstrating what letter, in what row, was needed.
As we continued through the lessons I was able to see how Reading Kingdom Online focuses on mastery. Each level Bram completed was scored and recorded. Then, based on how well Bram scored, he either repeated the lesson until he mastered the concept, or moved on to the next level.
OUR IMPRESSIONS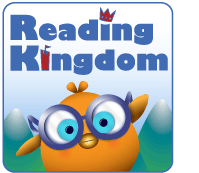 Overall, I liked this program. I plan to continue using this as a supplement with Bram. I can easily see the wisdom behind the 6 pillars, and the fact that the students will learn so much more than phonics. They learn reading skills that will serve them in the functions of reading, not simply sounding out words.
I enjoyed the way Reading Kingdom Online progressed in small increments, and appreciated the focus on mastery.
I was also very excited about the built-in keyboard skills as that is something that will serve any child in the future. However, if your child is not at all familiar with keyboards, manipulating a mouse or using a touchscreen, this may be more of a challenge than a benefit at first.
Bram however, was not terribly impressed. The program moved too slow for his active self. And he did not like having to repeat the exact same lessons before he could move on. But, repetition is what builds mastery.
WHAT ELSE IS OFFERED
You can find Reading Kingdom Online on Facebook, Twitter and Pinterest to follow their tips and insights. You can sign up for a 30 day free trial to try it out for yourself. Then, if you choose to subscribe the cost for the first student is $19.99/month or $199.99 per year. You can add additional students for $9.99/month.
If you have a child on the autism spectrum, be sure to check out ASD Reading as well.
And, I'm not the only blogger to review Reading Kingdom Online. Click the image below to see what others had to say.