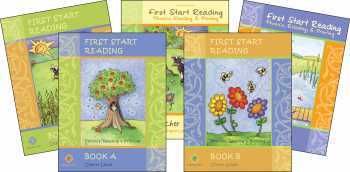 Thanks to the TOS Review Crew, I was given the opportunity to review
First Start Reading
from
Memoria Press
. I was given the full set, books A-D plus the teacher's manual, to try out so that I could share my honest thoughts with you.
Maybe you can relate to this scenario. You know how when you have one child and things go smoothly so you think you have all the answers? Then, your second (or third, or more) child comes along and blows all your "know-how" out of the water? Yeah. That's been me with teaching my energetic, science-minded, second born to read.
Meet Bram. I love this kid.  He is super fun and funny. He makes me laugh with his sweet humor and wit every day.  He loves science. Anything that has to do with dinosaurs, animals in general, the solar system, or hand-on experiments of any sort is what he's all about.
But reading, and especially writing?  Not so much.
He wants to read. He really does. And he tries hard. But sitting in a chair and using his science-brain in that way makes him frustrated and twitchy. So we've taken it slow. I don't push him to read, however we do take daily baby steps toward that goal. Getting to the point where he could identify all the letters and their sounds was a major accomplishment.
Why am I telling you all this? To lay the foundation, so you can see where we were academically when we received First Start Reading. I was a little apprehensive about this program at first. Switching curricula mid school year isn't always an easy change to make. However, I'm so glad we did! I'll tell you why in a moment. First, let me tell you a bit more about this program and Memoria Press.

Memoria Press
was founded in 1994 by Cheryl Lowe. Her goal was to promote the classical style of education with the use of Christian-based educational materials. Since then, Memoria Press continues to be a family-run business, providing home and private schools with quality curriculum.
I was very excited to read about the classical roots of Memoria Press as we are returning to a more classical style of learning for the coming school year.  This was a wonderful way to dip our toes back into the Classical waters.   As for the curriculum First Start Reading, it's described as a balanced phonics curriculum with a focus proper letter formation. Their goal is to not just read and write, but to do it well.
Sounds good, right? Now, let me tell you why we really enjoyed this program!
It doesn't march through the alphabet.
We've tried other reading curriculum that marches straight through the alphabet A-Z. And while this makes perfect sense in my mind, it's not very fun for a child that wants to read right now. Children can be impatient with their short attention spans and slogging through reading exercises without being able to read anything can be frustrating.
They see progress quickly.
Yay for progress! It may not seem like much, but in the first workbook lesson Bram could read "I am." Seeing the light in his face made me realize that having concrete progress, reading a word instead of "just" a letter, is inspiring to him. Little successes along the way add up to a desire to learn more.
The blending lines.
Bram is a pretty visual learner. The sweeping lines used to signify letter blends were an easy visual reminder that helped immensely.
The 45 Common Words
Since my first born learned to read rather easily with a phonics approach, and continued to become a strong reader and speller, I've been a phonics snob. I've avoided sight words at all costs. And while First Start Reading is phonics based, they also include 45 common words which are used in a similar way to sight words in other curriculum. It all goes back to my earlier point of seeing progress.  If our children have a repertoire of words to draw from, it's more fun and inspiring to try and learn more.
We have really enjoyed our time with First Start Reading by Memoria Press. Switching mid-year turned out to be a great decision for us. We will be sticking with this wonderful, classical, phonics-based curriculum. And, next year I'm sure I'll add other great products like their Cursive Penmanship Program.
You can find Memoria Press online, as well on social media at Facebook, Twitter, Pinterest, Google+, and Instagram. Also, click below to see what others are saying about their products.